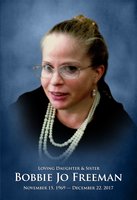 Bobbie Jo Freeman
Bobbie Jo Freeman, age 48, of Ellenwood, Georgia passed away Friday, December 22, 2017 at Grady Memorial Hospital. Bobbie was born on Saturday, November 15, 1969 in East Point, Georgia to the late Jerry Milton Freeman and JoAnn Henry Freeman. She was a lifelong resident of Clayton County, Georgia. Bobbie graduated from Morrow Senior High in 1988. She had won a summer scholarship at SCAD, Savannah College of Art and Design. Bobbie was talented in many fields including drawing and recess paper design. She sculpted with plaster and enjoyed sewing. Bobbie made her own work clothes and she made jewelry and shirt designs and sold them at the Flea Market. She celebrated all holidays by decorating the home. Bobbie enjoyed picnics, family get togethers, and going to the movies.
Bobbie is survived by her mother, JoAnn Freeman; brother, Scott Freeman.
A memorial service for Bobbie Freeman will be held at 2:00 P.M. Saturday, February 24, 2018 at Sherrell Memorial Chapel. The family will receive friends at the funeral home for one hour prior to the service. The family has requested that no flowers are to be purchased and you may meet for lunch at Mesquite Mexican Grill located at 34 3rd St, Jackson, GA 30233.
Sherrell-Westbury Funeral Home, 212 East College Street, Jackson, is serving the Freeman family.