212 E College St | Jackson, GA | 30233
Designing Arrangements for a Funeral and Cremation in Griffin, GA
Sherrell-Westbury Funeral Home has been providing funeral and cremation services in the Griffin, GA, area since 1967. We understand that losing a loved one can be difficult and emotional, and we are here to help during your grief. Our funeral home is family-owned with strong roots in our community, so you can trust us to provide quality funeral services with compassion, care, and efficiency. We offer a full range of funeral services, including traditional funerals, cremation options, and celebrant services. Our staff is dedicated to honoring your loved one's spirit with dignity and respect while attending to every detail for personalized services tailored to meet your individual needs. To learn more about our funeral home and services, please do not hesitate to contact us at (770) 775-3916. Our funeral directors are available 24/7 to answer your questions and help you through this difficult time.
Losing a beloved family member or partner is one of the most challenging circumstances life can hand down. Wrapping your mind around the new reality of death can feel shocking, even if you know the end is looming. Unfortunately, in this intensely emotional time, there are many decisions to make to finalize arrangements for laying your loved one to rest. If you are planning a funeral and cremation in Griffin, GA, look no further than the caring and qualified experts at Sherrell-Westbury Funeral Home to offer extensive support and options.
When someone dies at home or a place of business, we should immediately call for emergency services, even if it appears too late to save a life. These professionals will quickly come and assess the situation to investigate what led to the death. The coroner will authorize the body to be released to your chosen funeral provider. You can then call for that service to come and retrieve the remains for safekeeping and preparation for death care at the mortuary.
These notifying steps will likely be handled by the medical facility, hospice provider, or attending physicians' team if the death is pronounced under their supervision. You still get to choose the funeral home where the body will be taken. When the funeral team arrives to transfer the decedent into final care, there may be a few questions and signatures. Still, most decisions can wait until you and the other closest relations can meet for the arrangement conference.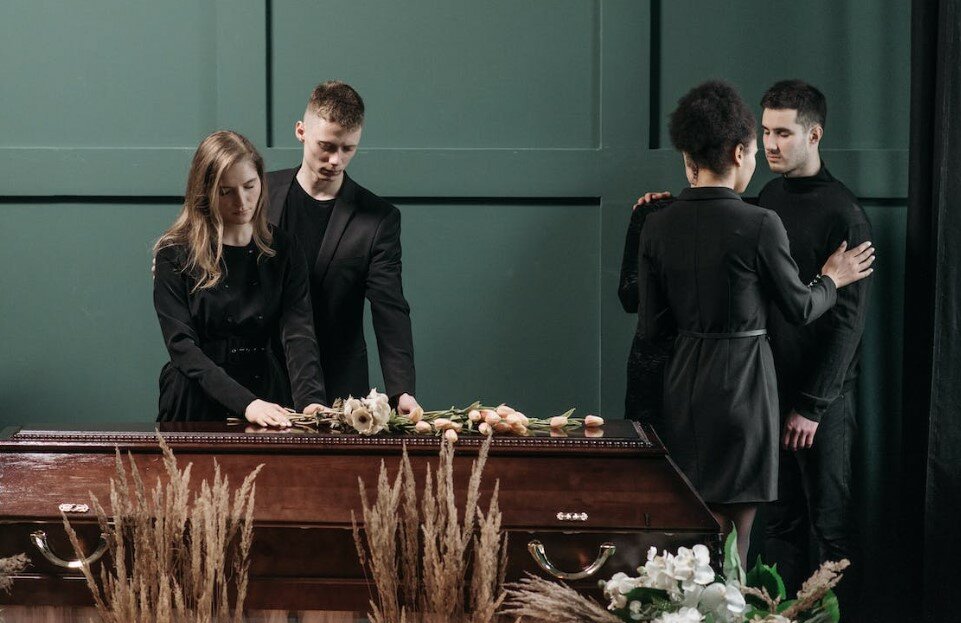 Healing Nature of Supportive Funeral and Cremation in Griffin, GA
At the arrangement conference, your funeral director will help you through the discussion of planning out what death care services you are interested in retaining for laying the decedent to rest. Every case is a little different, so there isn't really a one-size-fits-all approach to death care. If you are fortunate enough to have preplanned arrangements in place for the deceased person, you can begin by looking over those plans. If that is not available, you and other close relatives will work out the details for needs related to a funeral and cremation in Griffin, GA.
Personalized Funeral Services
Allowing your family and friends to have a final goodbye in the presence of the deceased's body has been shown to be a healing option for many grief-stricken individuals. Funerals are a beautiful way to do this. The nice thing about a funeral is that it can be customized in such a way as to be small and simple or more elaborate depending on the budget, desires of the family, etc. Many funerals are held in churches or funeral homes but could also be offered outdoors, at the family home, or another event center.
Cremation Services May Expand Your Options
Cremations are not considered an honoring ceremony by themselves. Instead, the process is meant to prepare the corpse for its final disposition. The body is incinerated in an individual chamber until only the calcified fragments of the bones remain. These fragments are ground into tiny granules that can be placed in a customized urn for display purposes or buried in a cemetery or memorial park.
Some families wish to return the ashen remains to the earth through a scattering service. This can be completed on a body of water, or an outdoor, natural setting where permits and permissions have been obtained for this purpose. Since cremation cares for the body soon after death, it may make a later honoring ceremony more accessible.
Find Just Right Solutions
Burial services are a beautiful option for a simplified funeral service. Memorial or Celebrations of Life ceremonies are wonderful for anyone looking for services without the body present. Make your needs known to your funeral director to find solutions that are just right for your circumstances.
How to Memorialize and Remember Your Loved One
To be honest, there are so many ways to do this. You can get quite creative when designing mementos or permanent memorialization options. It can be supportive to healing to find ways to feel close to your loved one after they pass away. Some suggestions include physical tokens and souvenirs to remind you of your decedent. Tabletop statues, figurines, ornaments, personalized jewelry, plants, etc., could all be possible tangible reminders of the person who has died.
Gain Access to the Support You and Your Family Need Through This Challenging Time
Perhaps no one likes to think about the need to make plans for a funeral and cremation in Griffin, GA, but death is a reality that all of us will face sooner or later. You can make death care plans ahead of time through preplanning forms accessed online at the website for Sherrell-Westbury Funeral Home or by calling (770) 775-3916 to schedule an appointment. Immediate needs will be responded to at all hours throughout the year. Learn more about our facility at 212 E College St, Jackson, GA 30233.
Funeral Home and Cremations FAQs
Is a Casket Needed for Cremation?​

No, a casket is not necessary. The majority of states call for an alternative container made of wood or cardboard, but some don't. Learn more about cremation services.


How Much Money Do You Give at Funeral?



The customary gift is typically between $50 and $100, which is the amount you would have spent on flowers for the service. Learn more about funeral etiquette.


Why Funeral Homes are Important?



Even if there is no one else present to support the deceased, a funeral home looks after and guards a body. After a certain amount of time has passed without anyone showing up to claim them, funeral establishments keep cremated remains before gently discarding the ashes. Even when no one else will, they guard a person's legacy.