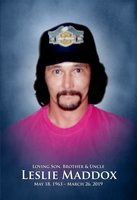 Leslie Myron Maddox
Mr. Leslie Maddox, age 55, of Jackson, GA passed away Tuesday, March 26, 2019 and was born in Jackson, Georgia on Saturday, May 18, 1963 to Kay Maddox and the late Ervin Maddox. Leslie loved the outdoors and was an avid fan of UGA Football. He was preceded in death by the love of his life, Rhonda Jones.
In addition to his mother, Leslie is survived by his daughter, Bridgett Hill Pruitt; brothers and sisters-in-law, Ed and Debbie Maddox, Lewis Maddox, Jack and Shelly Maddox; sister and brother-in-law, Marie and Brad Cornman; neices and nephews, Brianna Cornman, Ed Maddox, Jr., Daniel Maddox, Robert Maddox, Erica Parr, and Aleia Maddox.
A gathering of family and friends for Mr. Leslie Maddox will be held on Saturday March 30, 2019 from 3:00 P.M. until 6:00 P.M. at Sherrell-Westbury Funeral Home Those who wish may sign the online guest registry at www.sherrell-westburyfuneralhome.com
Sherrell-Westbury Funeral Home, 212 East College Street, Jackson, is serving the Maddox family.