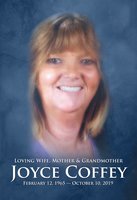 Joyce Coffey
Mrs. Joyce Coffey, age 54, of Jackson, Georgia, passed away Thursday, October 10, 2019, at Atlanta Medical Center. She was born on Friday, February 12, 1965, to the late Alton "Buck" Lamar Dykes and Virginia Ruth Griffith Dykes. Joyce loved spending time at the beach and the mountains. She enjoyed life with her family. Joyce was preceded in death by her sister, Lynn Haney; and daughter, Holly Carver.
In addition to her mother, Joyce is survived by her husband, David Coffey; children, Christopher Carver, Candy Ballew, Michael Poore, Kayla Davis, Shelia Carver, Bo Carver, Brittany Coffey, Ashley Coffey, Amber Carlyle; 20 grandchildren; sister and brother-in-law, Sherry and David Freeman; brother, Roger Dykes.
A visitation for Mrs. Joyce Coffey will be held at Sherrell-Westbury Funeral Home on Saturday, October 12, 2019 from 4:00 P.M. until 6:00 P.M. In lieu of flowers the family request those desiring to make donations to the funeral home to assist with expenses. Those who wish may sign the online guest registry at www.sherrell-westburyfuneralhome.com
Sherrell-Westbury Funeral Home, 212 East College Street, Jackson, is serving the Coffey family.